The Monero (XMR) crypto has gained traction after its developers confirmed in a GitHub post that the protocol would undergo a tentative hard fork in July to improve its network security and fee charges. They also added that a testnet deployment could be expected in May.
But before getting into its recent developments, let's find out about the Monero crypto first.
Also Read: Is Dogger Token (DOGGER) the next mover-and-shaker in social media?
What is Monero (XMR) crypto?
Monero, launched in 2014, aims to allow transactions in private to maintain users' anonymity. For instance, it is often easy to track payments back to their source on blockchains as they are transparent. However, Bitcoin (BTC) is believed to have the ability to cover the tracks.
The XMR token is designed to conceal the identities of both the sender and the recipient through advanced cryptography. The project team claims its foremost priorities are privacy and security and ease of utilization and effectiveness. XMR provides quick and low-cost transactions.
Also Read: Why is Decentralized Social (DESO) crypto gaining attention?
Of the seven developers of Monero, five remain anonymous. Some believe XMR was created by Bitcoin (BTC) founder Satoshi Nakamoto.
The XMR token can be traded on Binance, OKX, KuCoin, etc.
Also Read: Why is ECOMI (OMI) crypto rising?
Why is it gaining attention?
The company has recently announced its mainnet hard fork. It said no separate coin would be issued after the hard fork at a block height of over 2.66 million, possibly in July. Hard Fork is a blockchain protocol upgradation that renders the older versions invalid. July's hard fork would see the installation of the project's 15th software version (V15).
Also Read: Delta One raises US$9.1 mn to develop crypto 'yield' products
The token's recent gains could also be due to attempts to withdraw the holdings by users from major exchanges, which some social media users believe was a deliberate move to short squeeze and create hype.
Also, some recent reports claimed that fraudsters were demanding payments in XMR or BTC, drawing people's attention to the token.
Also Read: When is cryptocurrency exchange Blockchain.com going public?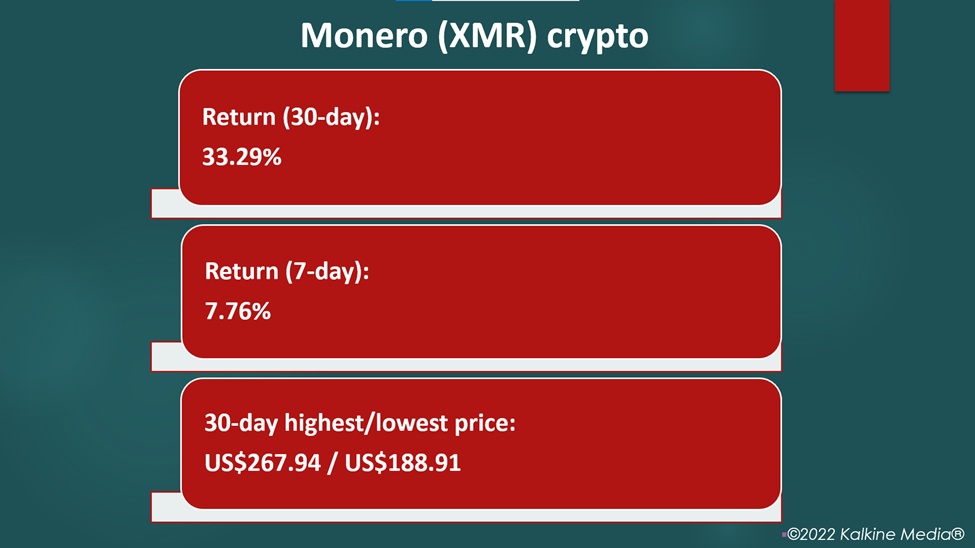 Data source: CoinMarketCap.com
Bottom line:
The XMR token was priced at US$254.86 at am ET on April 20, up 0.94%, while its volume for the last 24 hours declined 35.99% to US$297.37 million. It has a market cap of US$4.61 billion, and its fully-diluted market cap is US$4.60 billion.
The token's total and current circulating supply is over 18.11 million. It gave a return of 33.29% in the last 30 days while providing gains of 7.76% in the last seven days.
The token saw the highest price of US$267.94 and the lowest price of US$188.91 in the last 30 days. It reached its all-time high of US$517.62 on May 7, 2021.
Also Read: Is Algorand (ALGO) crypto darkening Times Square for Earth Day?
Risk Disclosure: Trading in cryptocurrencies involves high risks including the risk of losing some, or all, of your investment amount, and may not be suitable for all investors. Prices of cryptocurrencies are extremely volatile and may be affected by external factors such as financial, regulatory, or political events. The laws that apply to crypto products (and how a particular crypto product is regulated) may change. Before deciding to trade in financial instruments or cryptocurrencies you should be fully informed of the risks and costs associated with trading in the financial markets, carefully consider your investment objectives, level of experience, and risk appetite, and seek professional advice where needed. Kalkine Media cannot and does not represent or guarantee that any of the information/data available here is accurate, reliable, current, complete, or appropriate for your needs. Kalkine Media will not accept liability for any loss or damage as a result of your trading or your reliance on the information shared on this website.




Read More: kalkinemedia.com