InvestorPlace – Stock Market News, Stock Advice & Trading Tips
What Happened to the COMPASS Pathways Stock Price Today?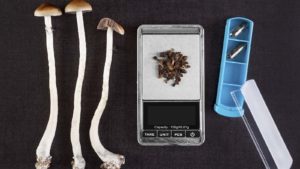 Source: Shutterstock
Shares of psychedelics-inspired medicine developer COMPASS Pathways (NASDAQ:CMPS) jumped more than 5% on Monday, continuing what has been a multi-day uptrend for CMPS stock.
CMPS stock is now up more than 15% over the past few trading days.
Why It Happened
The so-called "Shroom Boom" — wherein the world develops a new class of psychedelic-inspired medicines to more effectively treat a wide array of mental health disorders, like substance abuse, anxiety, and depression — is gaining awareness, traction, and momentum. This "rising tide" is benefitting CMPS stock.
One of the smaller players in this space — Mind Medicine (OTCMKTS:MMEDF) — won approval to up-list to the Nasdaq. Trading for MindMed on the Nasdaq under the ticker "MNMD" will start on April 27.
One of the larger private players in this space — ATAI Life Sciences, backed by billionaire VC Peter Thiel who was famously Facebook's (NASDAQ:FB) first investor — is planning to raise $100 million in an IPO very soon.
An April 2021 study from the Imperial College London found that psilocybin — the active ingredient in "magic mushrooms" — is more effective and faster at treating depression than Lexapro.
The New York Times recently did a positive piece on the psychedelic-inspired medicines sector.
This strong confluence of tailwinds has prompted a big rally in CMPS stock.
Does It Matter?
All of these developments are favorable developments for COMPASS Pathways. The more investors and the public are aware of the "Shroom Boom," the more money will flow into shroom stocks, and the higher CMPS stock will go.
But the big news here will come in late 2021.
That's why COMPASS Pathways will release Phase 2b trial data for its leading drug candidate, COMP 360.
COMP 360 is considered the leading drug candidate in this entire industry. In late 2021, it will become the first psychedelic-inspired drug to report…


Read more:The Shroom Boom Is Here. Buy CMPS Stock to Ride This Explosive Megatrend.