Solana Labs, led by co-founder Anatoly Yakovenko, plans to improve its software upgrade process to ensure network reliability and uptime in response to the issues encountered after the 1.14 network update. 
Solana, the blockchain that once boasted of being the Ethereum killer, has been struggling with network issues since its recent 1.14 update on Feb. 25. The update aimed to improve the network's speed and scalability, but it appears to have done the opposite, resulting in a sluggish transaction processing that left users feeling like they were stuck in a tar pit.
Responding to the issues, Anatoly Yakovenko, Solana's CEO, released a statement on Feb. 28, outlining a plan to improve the network's recent upgrades. Yakovenko emphasized that the recent 1.14 update made it clear that maintaining stability during major updates was a challenge.
Solana's core engineers had been working to fix various issues impacting the network's speed and usability, such as invalid gas metering and a lack of fee markets. However, following the update, core engineers plan to enlist the help of external developers and auditors to test and find any exploits. The team also plans to form an adversarial unit, comprising almost a third of Solana's core engineering team, to ensure network security.
The devs will continue to support external core engineers, including Jump Crypto's Firedancer team, which is building a second validator client. Additionally, the core engineering team plans to improve the restart process by making nodes automatically discover the latest confirmed slot and share the ledger with each other if it is missing.
Solana has been working diligently to improve network-wide stability, with Mango DAO developers building new tooling and implementing local fee markets, among other efforts.
The recent network disruptions have not gone unnoticed, with some users referring to Solana as a "transaction killer." However, the network remains optimistic, with the Helium Network's communications protocol set to migrate to the Solana blockchain on Mar. 27. The migration will allow for the deployment of oracles, and Solana working to ensure that its network is stable and reliable for its users.
Despite the recent issues, Solana's native token SOL is currently trading at $22.67, up by 2.1% in the past 24 hours, according to data provided by CoinMarketCap.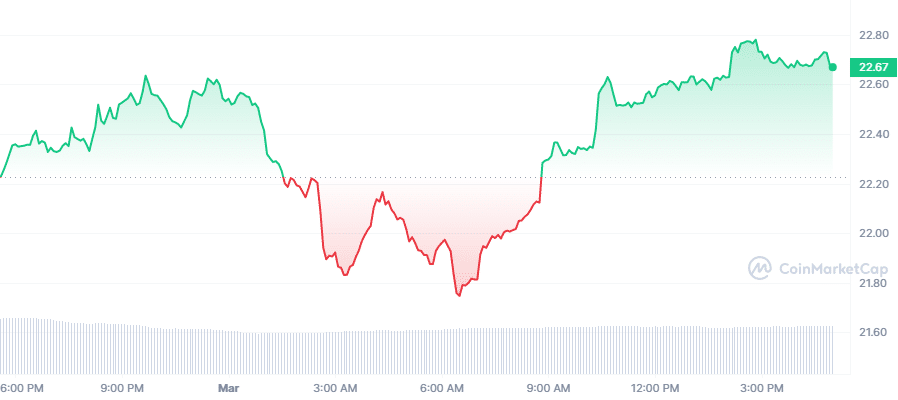 Read More: crypto.news