By Maria Smirnova, Senior Portfolio Manager, Sprott Asset Management
We live in unprecedented times. As the world's population grows and industrialization takes hold in more corners of the world, climate change is accelerating, and, in response, humanity's concern for our planet's health is growing. The teenage activist Greta Thunberg put it best: "I want you to act as if the house is on fire, because it is." 1
As clean energy initiatives gain traction, greater attention is being paid to the critical roles of various metals and minerals. Access to these valuable materials has become critically important, which is why several resource-rich nations, including Canada and Australia, have joined the United States in establishing the Energy Resource Governance Initiative (ERGI), an alliance to disseminate best practices for discovering and developing reserves of minerals used to make electric vehicles.2
Silver plays a critical role in all "green revolution" discussions. Although renewable power generation and battery storage technologies may conjure visions of cobalt, lithium and nickel, we would argue that silver plays an even more fundamental role across many green energy technologies.
Silver's Pivotal Role as an Industrial Metal
We have often discussed silver's role as a real asset, a currency that generally keeps its value through fiat currency devaluation cycles. Through the COVID-19 pandemic, silver has certainly proven its value as a safe haven asset in portfolios, rising 47.89% in 2020.
Figure 1. Silver Climbed 47.89% in 2020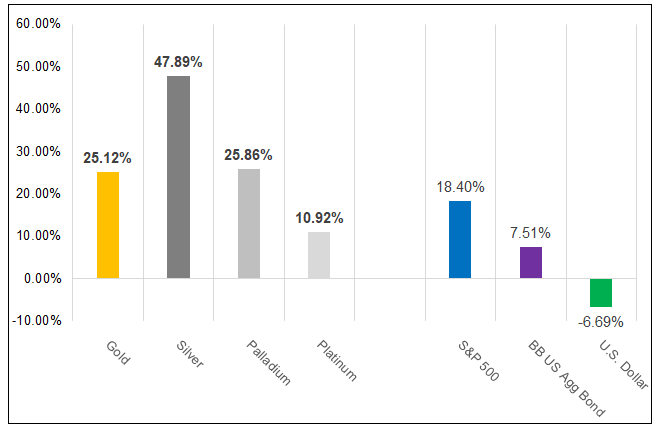 Source: Bloomberg. Period from 12/31/2019-12/31/2020.3
However, we would like to focus on silver's role as an industrial metal, which we consider the market's backbone given that industrial demand is not as fickle as investment demand.
Figure 2. Industrial Buyers Drive More than 50% of Silver Demand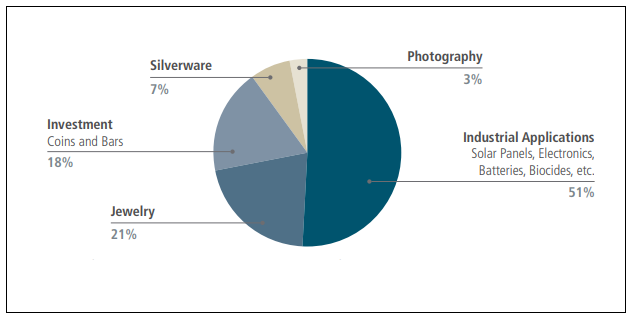 Source: GFMS Definitive, Metals Focus, The Silver Institute, UBS. Data as of January 2020.
As global efforts to decarbonize and electrify gather steam, we expect three areas to contribute significantly to silver consumption:
The automotive sector and electric vehicles (EV), including the associated infrastructure;
The solar energy industry; and
5G (fifth generation technology) broadband cellular networks.
All three of these verticals are targeted by President Biden's Plan For a Clean Energy Revolution and Environmental Justice,4 which has a stated investment target of US$2 trillion. The U.S. plan is just one example; other governments have committed to industrial decarbonization and ever-tightening emission regulations, and acknowledge the need for more sustainable mobility strategies.
Boosting Electric Vehicles
In January, President Biden signed an Executive Order (Tackling the Climate Crisis at Home and Abroad) setting a goal to transition the U.S. government's fleet of cars and trucks to electric vehicles assembled in the U.S. As of 2019,…


Read More:Silver's Clean Energy Future | Gold & Silver Investing Channel