I used to think Bitcoin was a stupid investment. I have changed my mind. Sort of.
My objection to Bitcoin
My objection to Bitcoin was Buffett's objection to gold: it's not a productive asset. Stocks have earnings, bonds have interest, real estate generates rents. Heck, chickens lay eggs. Bitcoin, like gold, just sits there. So I could never figure out where the demand for this asset was going to come from: who wants to own an electronic currency? I could see it being useful to the mafia, or to Chinese millionaires trying to smuggle wealth out of China, but those seemed like marginal sources of demand in the scheme of things.
Bitcoin enthusiasts typically emphasize the limited supply of Bitcoin. Only 21M bitcoin can be created; 18M already exist. But what good is limited supply if there is no systematic demand? Stocks of companies are in limited supply but they don't all go up.
I was a Bitcoin skeptic but, more than I believe any theories of mine about Bitcoin, I believe prices in a free market are set by supply and demand. Supply of Bitcoin is approximately fixed, so price varies with demand. And there is this chart: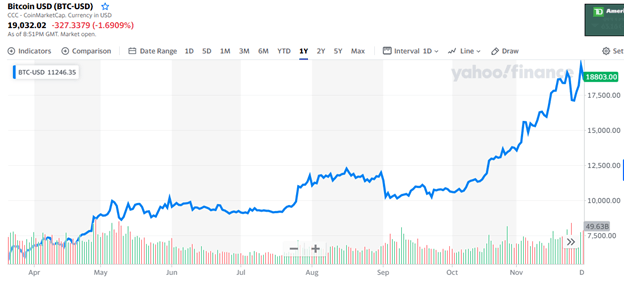 (Source: Yahoo Finance)
So my theory was wrong. Somewhere, somehow, demand for Bitcoin was increasing. It doesn't have to make sense. It just has to be real.
Where is the demand coming from?
The short answer is, Bitcoin is moving from niche interest to the mainstream. But… no kidding. Why?
Economists tell us money has three functions. Money is a medium of exchange: but while some merchants will take it, bitcoin has not become widely adopted, nor is it likely to be. This is because fees are too high, and transactions take too long to confirm, for bitcoin to replace ordinary fiat currencies.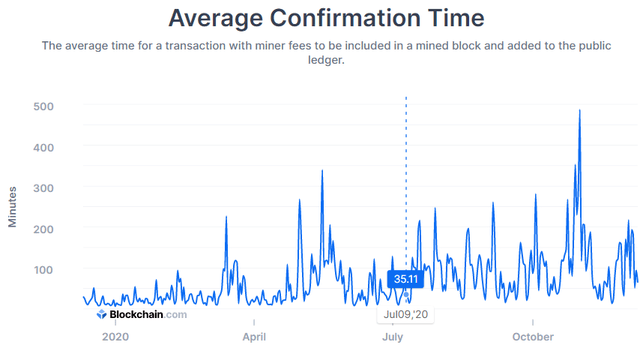 (Sources: bitinfocharts.com, blockchain.com)
Money is a unit of account: but nobody is keeping their books in Bitcoin, and they are not going to start, because it's a terrible medium of exchange.
Bitcoin is going mainstream, instead, as a store of value. It is becoming digital gold, an asset people are willing to hold to protect against inflation or just for diversification. Bitcoin is, indeed, impervious to inflation, although it's plenty volatile for other reasons. The other reason more people are holding Bitcoin these days is for speculation. They think other people want to hold Bitcoin.
They are right! Although even a year ago, Bitcoin didn't have much institutional interest, in 2020 Stanley Druckenmiller, Paul Tudor Jones, and Kevin Leary have expressed an interest in holding a small percentage of their net worth in Bitcoin. One percent of their net worth is more than six days' supply of mined Bitcoin. Ray Dalio is open to Bitcoin.
Major investment brokerages – Fidelity, Vanguard, and Schwab – are investing in Bitcoin miners. Fidelity is dipping its toe in other ways too. They wouldn't be going there unless their clients were demanding it. Robinhood allows its users to invest in Bitcoin. S&P Dow Jones is putting…


Read more:How I Stopped Worrying And Learned To Love Bitcoin (Cryptocurrency:BTC-USD)