Helium's HNT token plunges to a two-month low following Binance.US's delisting announcement and ahead of its migration to the Solana blockchain, raising concerns among investors.
HNT, Helium's token, reached its lowest value in two months following the announcement by Binance.US that it would delist the cryptocurrency on March 21.
The token's value has decreased by 20% within the last 24 hours and was recently trading at $1.98. The delisting precedes Helium's upcoming transition to the Solana blockchain from its native blockchain.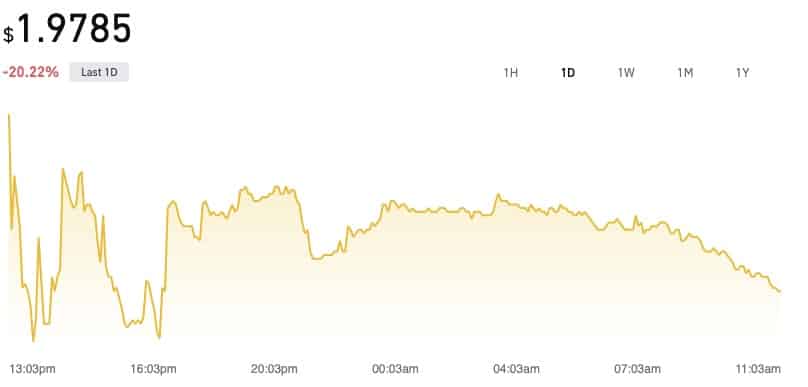 The Helium Network is a distributed system of wireless hotspots designed to offer an alternative to traditional internet or mobile data services. Cryptocurrencies power these services, and participants in the network receive rewards for their involvement.
Hotspots earn HNT when they provide and validate wireless coverage and transmit data through the network.
The Helium Foundation expressed disappointment with Binance.US's decision to delist HNT before the migration but acknowledged the exchange's position.
The foundation highlighted that the migration to Solana is a significant event for the industry, akin to Ethereum's shift from proof of work to proof of stake.
The transition to Solana is on schedule, with the migration set to occur on March 27.
This decision follows a period when the project's initial rapid growth in adoption stagnated, and it faced allegations of dishonesty regarding crucial partnerships and its profitability.
In response to these claims, founder Amir Haleem clarified in a tweet thread that Helium does not maintain commercial relationships with organizations using the network.
Instead, it "evangelizes the network" to assist them in creating applications.




Read More: crypto.news