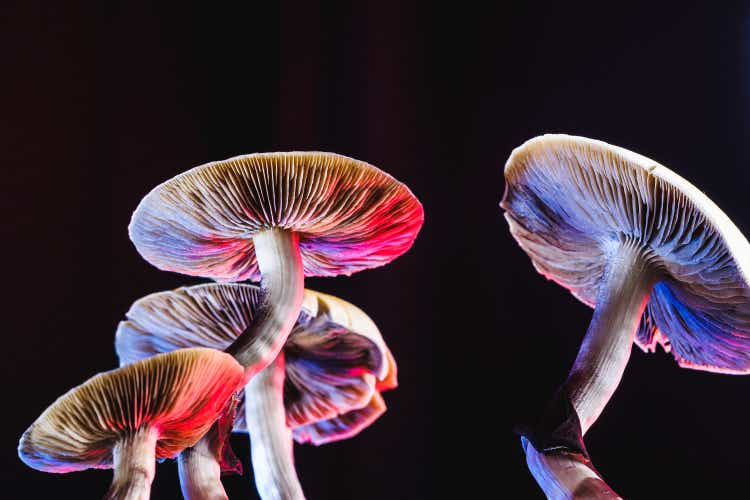 Investment Thesis
Compass Pathways (NASDAQ:CMPS) is a UK-based biotech pioneering a new combination therapy for treatment resistant depression ("TRD") that involves administration of the psychedelic drug psilocybin – named COMP360 – accompanied by psychological support.
I last covered the company for Seeking Alpha back in September 2021 when Compass' share price traded at $32.6 and its market cap was ~$1.4bn, and despite arguably making some significant progress since then, today Compass stock trades at a value of $10.6, and its market cap valuation is $440m at the time of writing.
The fall in value is in keeping with the devastating biotech bear market that has driven the average drug developers' stock price down by more than half across the past 12 months.
Compass remains well funded, reporting $244m of cash and equivalents as of Q122, and made a loss of just $21.2m in the quarter, so there seems little danger of investors being diluted by an at-the-market fundraising – unless it was on the back of a strong data readout, or to fund a marketing push, in which case shareholders would ultimately be rewarded by a rising share price.
Compass has also now completed a Phase 2b safety and efficacy trial of psilocybin plus psychotherapy in 233 patients across 22 sites in the EU, US and Canada, and announced results in December last year, which showed that:
… a single 25mg dose of COMP360 demonstrated a highly statistically significant and clinically relevant reduction in depressive symptom severity after three weeks, with a rapid and durable treatment response

The 25mg group vs the 1mg group showed a -6.6 difference on the MADRS* depression scale at week 3 (p<0.001). In the 25mg group, 36.7% (29 patients) showed response* at week 3 and 29.1% (23 patients) were in remission* at week 3. Furthermore, at the end of the trial at week 12, 24.1% (19 patients) were sustained responders. Additional analyses of primary and secondary endpoints have supported these results
Compass has held an end of Phase 2 meeting with the FDA and is finalizing its Phase 3 trial which is expected to launch in the second half of this year. The company has secured 10 patents covering composition, formulation and method of use, and overall, Compass has become a torch bearer for the use of psychedelic drugs to treat depressive diseases.
COMP360 was awarded Breakthrough Therapy Designation by the FDA in 2018, and besides TRD, it's being evaluated in post-traumatic stress disorder ("PTSD"), and in partnership with Universities and "Centres of Excellence," such as the Sheppard Pratt centre for psychiatric care, is being evaluated as a therapy for Major Depressive Disorder ("MDD"), Chronic cluster headaches, Bipolar Disorder, Anorexia Nervosa, Suicidal Ideation, Autism, Body Dysmorphic disorder and MDD in cancer patients.
With such a wide variety of indications being addressed, and armed with its positive Phase 2 data and with a pivotal trial to follow, investors may feel that Compass is a victim of a savage bear market, rather than a cause of it, and that even if a return to former highs of $58, in December 2020, and $49, in November 2021, is not possible, that nevertheless, 50-100% upside could be achievable for this company given its…
0.001).>


Read more:Compass Pathways: Shares Look Cheap, Proving Psilocybin Case Won't Be Easy