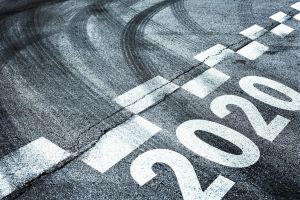 The time flies and it might even be flying faster in the Cryptoverse – or so it would appear – with the turbulent, volatile markets putting on a show for us daily, monthly, and yearly. And what a show they put in 2020!
From bitcoin (BTC) reaching new all-time highs, climbing towards USD 30,000 at the end of the year, to ethereum (ETH) finally launching its Phase 0 of Ethereum 2.0, and its price jumping to some USD 740 by the year's last day – nobody could deny that it was a year full of big events for the Cryptoverse. And these were just a couple of news about the top 2 coins, with many more about them and other projects – both good and bad – being reported on throughout the year (check out our previous quarterly coin races, for example).
Let's take a look at the performance by the top 50 coins by market capitalization over the last month and the last quarter of 2020, as well as over the entire year.
December
Compared to 2019, 2020 was obviously a lot greener, and we'll see no better representation of that than the month of December. Though, granted, it saw quite a few coins' prices drop, it also brought significant increases to the market as well.
Top 10 Coins
All but two coins saw a rise in their prices – and a double-digit one at that. At the very top, with more than a 77% rise, stands a relatively new entrant to the top 10 list, one that made its appearance just last year – polkadot (DOT). DOT is followed by litecoin (LTC) with a nearly 70% rise, while bitcoin takes the third spot, having gone up 60.7% in December. Speaking of LTC, its developers revealed in October that a testnet with new privacy features, called Litecoin MimbleWimble (MW), was launched.
The somewhat distant fourth place is taken by ethereum, which itself has had an eventful year ETH 2.0-wise as said, with an increase to its price of 33.5%. Meanwhile, the remaining coins went up between 10% and 27%.
On the other hand, two coins dropped over the last month of 2020: chainlink (LINK) fell more than 14% and XRP dropped a whopping 63.3%. As reported, the American Securities and Exchange Commission (SEC) filed a lawsuit against the company, followed by a number of platforms suspending trading in XRP.
Top 10 Winners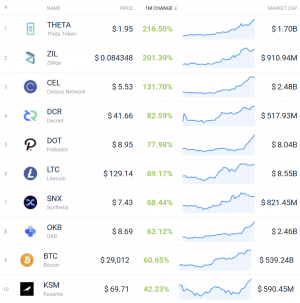 Looking at the top 50 by market capitalization, we find DOT on the 5th spot and LTC on the 6th in this category's green list. It is preceded by theta token (THETA)'s 216.5% increase, as well as zilliqa (ZIL)'s 201.4%. The 3rd and 4th place are occupied by coins 131.7% and 82.6%, these being celsius network (CEL) and decred (DCR), respectively. The least to have appreciated among the most-appreciating coins in December is Polkadot-related kusama (KSM), which went up almost 42.3%.
Top 10 Losers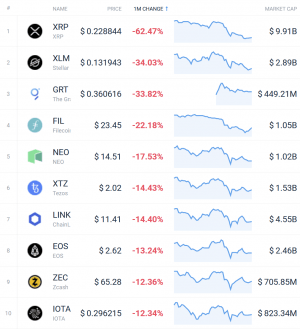 But for all its greenery, December wasn't without its drops either. The troubled XRP takes the first place among the biggest decreases in the…


Read more:Coin Race: Top 10 Winners & Losers of December, Q4, and 2020