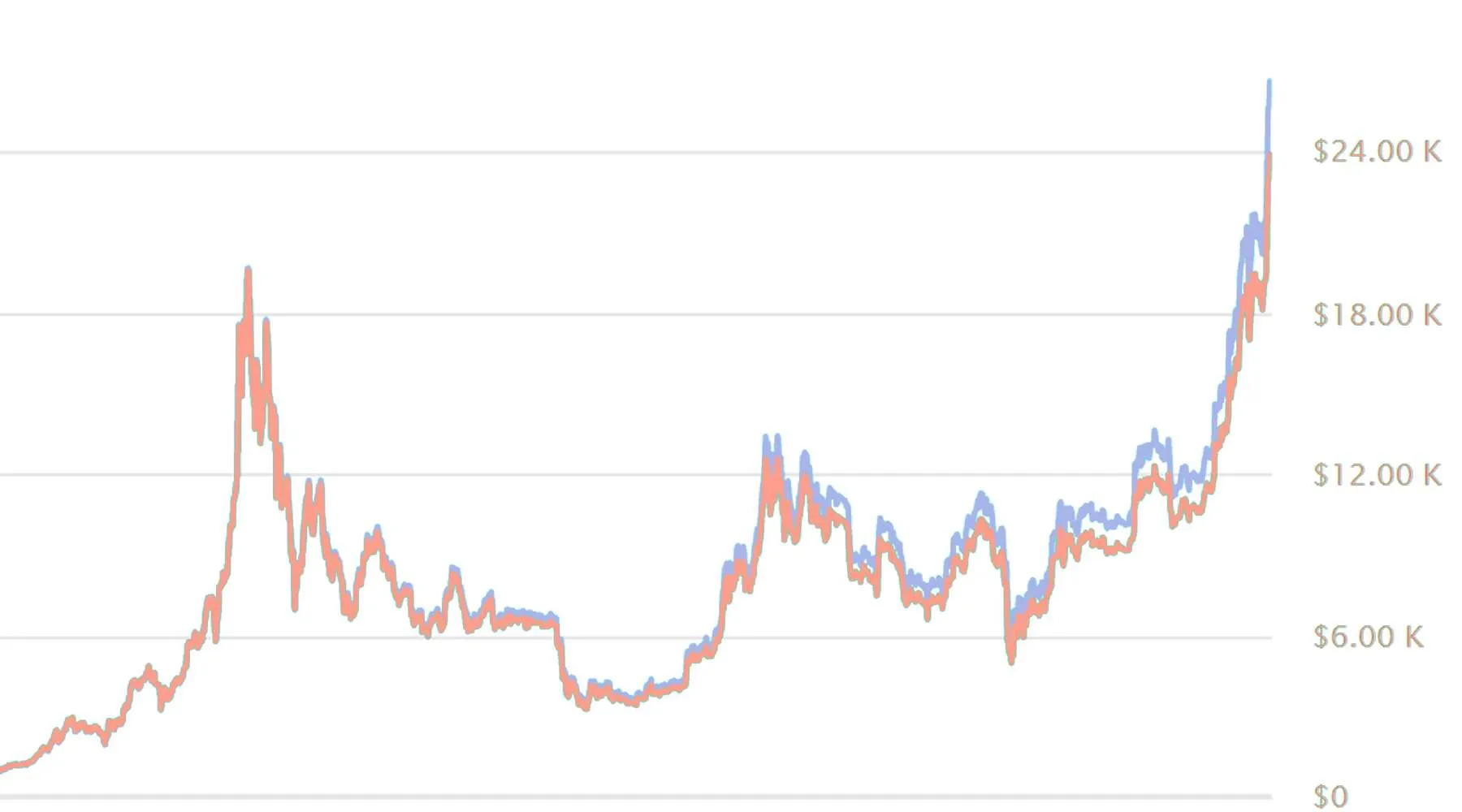 Many remain bullish despite Bitcoin dropping US$1,000 in less than 90 minutes.
Bitcoin has broken through US$24,000. The price of Bitcoin on Gemini Exchange read US$24,270 before taking a dip of almost US$1,000. Bitcoin is at US$23,420 at the time of writing having reached as low as US$23,285, the only sign over the last 4 days that Bitcoin's price can indeed contract.
Over the last month Ethereum, Ripple's XRP and Litecoin have all priced in major gains adding over 30%. Ethereum, which has the second largest market capitalisation after Bitcoin, is up over 32% on the month to date.
Ethereum has increased both its popularity and market cap over the summer as market sentiment turned bullish for decentralised finance (DeFi) which uses crypto technology to recreate traditional financial instruments such as loans and insurance.
Learn how to buy Bitcoin
Litecoin, otherwise termed the silver to Bitcoin's gold, has this week climbed to its highest price in more than 16 months. It is currently trading around 40% higher month on month. Interestingly Litecoin is still trading beneath its 2017 high by around 75%.
Record spot session yesterday, $3bln+ BTCUSD traded across largest fiat-crypto exchanges pic.twitter.com/LtTEOsq1s6

— skew (@skewdotcom) December 18, 2020
Mining equipment sees huge spike in prices
Following the recent interest around Bitcoin, Bitmain and MicroBT, the largest producers of Bitcoin mining equipment, have reported being sold out until May 2021 forcing miners to the second-hand market for replacement parts and newer machines. Since November, prices of the newest model rigs have increased up to 35%.
Institutional uptake of Bitcoin looked on favourably by the market
Mainstream fintech giant PayPal's recent inclusion of Bitcoin transactions from within the app has been met with a positive response from the market as its share price increased by over 17% since the announcement of the plans.
MicroStrategy is also in the limelight due to its bullish approach to digital assets. Its stock price has risen by 160% since deciding to move hundreds of millions of dollars in its corporate treasury to Bitcoin in July this year.
The Twitter Bot tracking MicroStrategy's Bitcoin investment shed some light as to why the company's share price surged:
"MICROSTRATEGY'S $425,000,000 (38,250BTC) BITCOINFUND IS NOW WORTH $901,422,450 +112.10% CURRENT BTC PRICE: $23,567 SHARE PRICE WAS $118.22, NOW $309.05 WHICH IS +161.42% SINCE BITCOIN CAPITAL ALLOCATION STRATEGY ANNOUNCEMENT ON 08-JUL-20," it noted.
Rumours are also swirling that suggest Elon Musk is contemplating moving payment methods for Tesla and his other projects to Bitcoin.
Massive Bitcoin-related IPO
Coinbase is currently in the process of applying with the Securities and Exchange Commission in the US for authorisation to make an Initial Public Offering (IPO). Coinbase was valued at US$8 billion dollars in 2017 when papers were initially filed for an initial funds raising….


Read more:Bitcoin price update: The $1,000 drop – finder.com.au