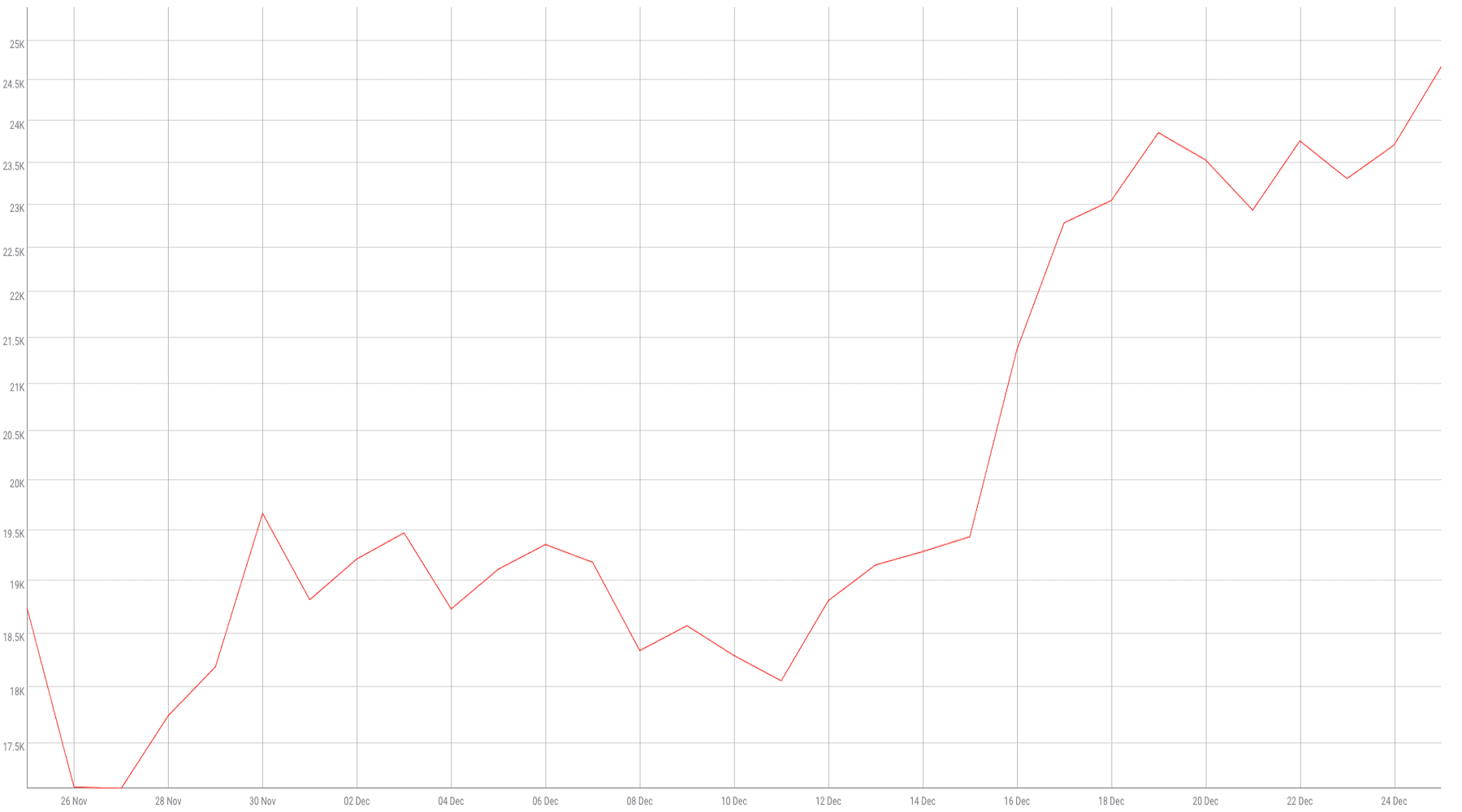 Bitcoin hits $25,000 with continued institutional interest
Bitcoin briefly breaks the $25,000 ceiling marking an increase of nearly 5 times the yearly low.
Litecoin daily trade volume up more than $10 billion in 6 months.
The recent wave of institutional investment remains a popular thesis for the current bull market.
Bitcoin has broken through $25,000 – the latest in a series of glass ceilings that the digital asset has smashed through. The fresh $25,000 all-time high represents a near five times increase from Bitcoins 2020 price low of $5,144, or a 386% year-on-year increase.
Litecoin, otherwise termed the silver to Bitcoin's gold, has this week climbed to its highest price in three years . It is currently trading around 297% higher on the year's low of $32.78 in May. Now trading at $130.18, the only time Litecoin's price has been higher was during the bull run of late 2017. Perhaps more impressive is that there is currently $13 billion of daily Litecoin trade, compared to around $2.8 billion in July.
How to buy Bitcoin
Federal Reserve policies impacting cryptocurrency markets
The Federal Reserve has pursued a massive stimulus package as part of Covid relief measures. This could be lending credit to Wall Street appraisals of Bitcoin as a hedge against inflationary pressures on the US currency leading fresh interest from big-name investors.
There is considerable excitement around fintech apps PayPal and Cash App as they have grown the cryptocurrency user base to hundreds of millions, driving with it a huge demand for digital assets. Within four weeks of partnering with Paxos to provide bitcoin transactions on its network, PayPal is already buying nearly 70% of new Bitcoin supply according to a report by Pantera capital.
Mike Novogratz, founder and CEO of Galaxy Digital has been a long time bull on Bitcoin and offers another explanation for the most recent rise of Bitcoin. He said that the Federal Reserve inflating its books by over 1.5 trillion dollars means that "there could not be a better macro story . . . for owning bitcoin right now."
This theory is supported by Philip Gradwell, chief economist at Chainalysis, claiming that since the bond purchasing scheme was enacted bitcoin's price more than doubled from around $10,000 in September 2020.
This institutional uptake of Bitcoin as an investment vehicle at this time runs counter to the bull run around Bitcoin's 2017 all-time high which was made up of largely retail investors taking advantage of relaxed regulations on global markets and major financial institutions rejecting Bitcoin entirely.
FOMO in overdrive
"The role of institutional investors is becoming ever clearer in the data," Gradwell explained to investors. "Demand is being driven by North American investors on fiat exchanges, with greater demand from institutional buyers."
Denis Vinokourov, from London-based crypto-investment firm Bequant, advised "now that Bitcoin has passed $20,000," there's more chance…


Read more:Bitcoin price update: new all-time high of $25,000 – finder.com.au