At press time, the price of Bitcoin sits comfortably at $34,229, while sustaining mild losses below 3%. But the big bull might not remain at this level for too long, as a new pattern in the market has shown that Bitcoin has the potential to hit $50,000 this month.
A $20k pump in the near term
Cryptocurrency analyst and trader who goes by the Twitter username "RektCapital" took to Twitter to stir up the bullish sentiments, as he noted that Bitcoin is starting to imitate the technical analysis approach known as the "Wyckoff accumulation semantics."
This accumulation is usually sideways within a range-bound period and usually takes place after a prolonged bear trend. There are five phases of accumulation, and according to Rekt's analysis, Bitcoin is primed to enter Phase D this month.
In the fourth phase, phase C, there is a typical bear trap, but in the next phase, there is usually consistent dominance of demand against supply, and if Bitcoin is able to cross the low point of support in Phase D, $50,000 is the assets' next stop.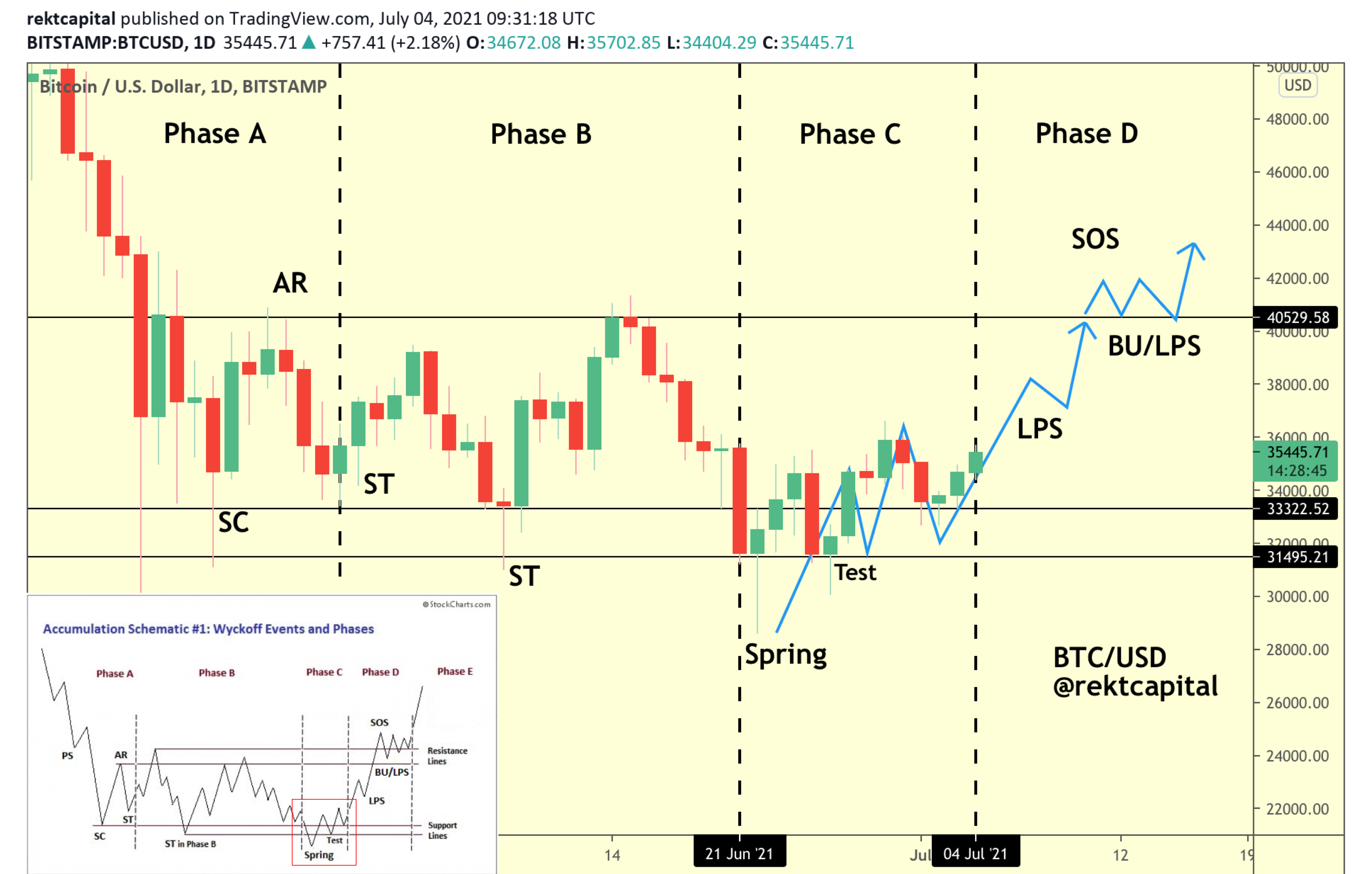 Bitcoin's next hurdle: Surpassing the two death crosses
The road to $50,000 is still very dangerous, especially as the same analysis notes that if Bitcoin manages to clear $36,000, there are two death crosses (exponential moving averages indicators), hinting that the bulls could face a major pushback.
"Once BTC is able to clear $36000, the major resistance will be the $38000 area. Not only is this the Range High of the macro consolidation range Bitcoin  is in now, but the two BTC Death Cross EMAs (50 blue & 200 black) will likely act as confluent resistance there too"
The Journey so far
Meanwhile, In the last 7days, Bitcoin has corrected its major losses from the month of June, thanks to the increase in trading volume. Bitcoin opened the new month at the $35,000 range and prices slowly fell, as Bitcoin shaved off between $1,000 to $2,000 of the aforementioned price.
The Bitcoin market has since been showing signs of stability following the major crackdown on the Chinese base miners who have since relocated to more mining-friendly locations. 
Bitcoin bears do not seem to be working overtime this period, hence the growing expectations from analysts that Bitcoin is preparing to take off in the near term.


Read More: zycrypto.com